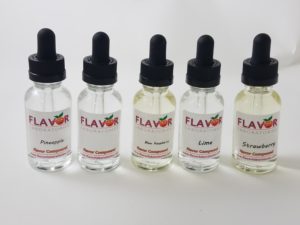 Flavoring pricey "finished" oil and wax products require a highly concentrated oil soluble flavor formula.   To date we are the only true manufacturers of such highly potent MCT oil based flavorings.  We do not want to drown expensive edibles with carriers or substrates.  This product is like 100x flavor with a small amount of MCT oil to act as a filler.  This is also potent flavoring for MCT oil.  You will find no stronger flavor on the market and our flavors are excellent – most formulas already proven bestsellers of finished products on the retail shelves.
With our precision and calibrated MCT oil flavoring we have the ultimate solution for home extractors and processors as well as licensed medical, recreational and candy manufacturers.
Because our formulas are eight times stronger than say even "concentrated candy flavor dot com" (which is very strong as it stands….) we use very expensive materials with little or no substrate or carrier on this website.  If there is a need to standardize we use MCT oil to cap off.  Perfect for lip balms, salves, chocolates or any oil or wax based edible.  If you need higher volume pricing please call 813-331-3333 to discuss our Medical Flavoring Division.
We specialize in premium alcohol-free 1-4% flavor concentrates to flavor oil or wax based products.  Click here to SHOP.  Never use these professional flavors directly and keep out of reach of pets and children.  Our main customers are chef's, mixologist, and professionals.
Our flavors are designed for flavoring waxes and oils.  Our flavor compounds are ultra-concentrated. Suggested use is 1%-3% whereas other typical flavoring concentrates typically need 12% – 25% to flavor product. Because of the concentrated nature of our products, you save a lot of money on shipping, both domestically and internationally.
Please visit our Blog for more on "How to Flavor Wax and How to Flavor  Oil."  Our most popular flavors include Berry Berry [truest to the natural flavor and best on the market] Lime [tastes just like a lime Lifesaver, but better] Mango [very juicy and a favorite] Passion Express [a heavenly Passion Fruit that scent permeates packaging]  Strawberry [the most authentic Strawberry you'll ever taste-like a Jam you could drink] Blue Raspberry [tastes just like a blue slushee but better] Bomb Pop [The Red White Blue Popsicle which is basically lemon, cherry and blue raspberry]   Apple Green, Cherry, Grape, Pear, Pineapple and Coconut or any combination thereof.  Fruit Loopys [you guessed it] and our Vanilla are also admirable formulas.  For reviews you can check out our WordPress page or Amazon which we sell a powerful flavor but not as powerful as this under Candy Flavor Dot Com brand.  Banana, Cherry, and  Double Mint seem to work best on the harshest of strains.